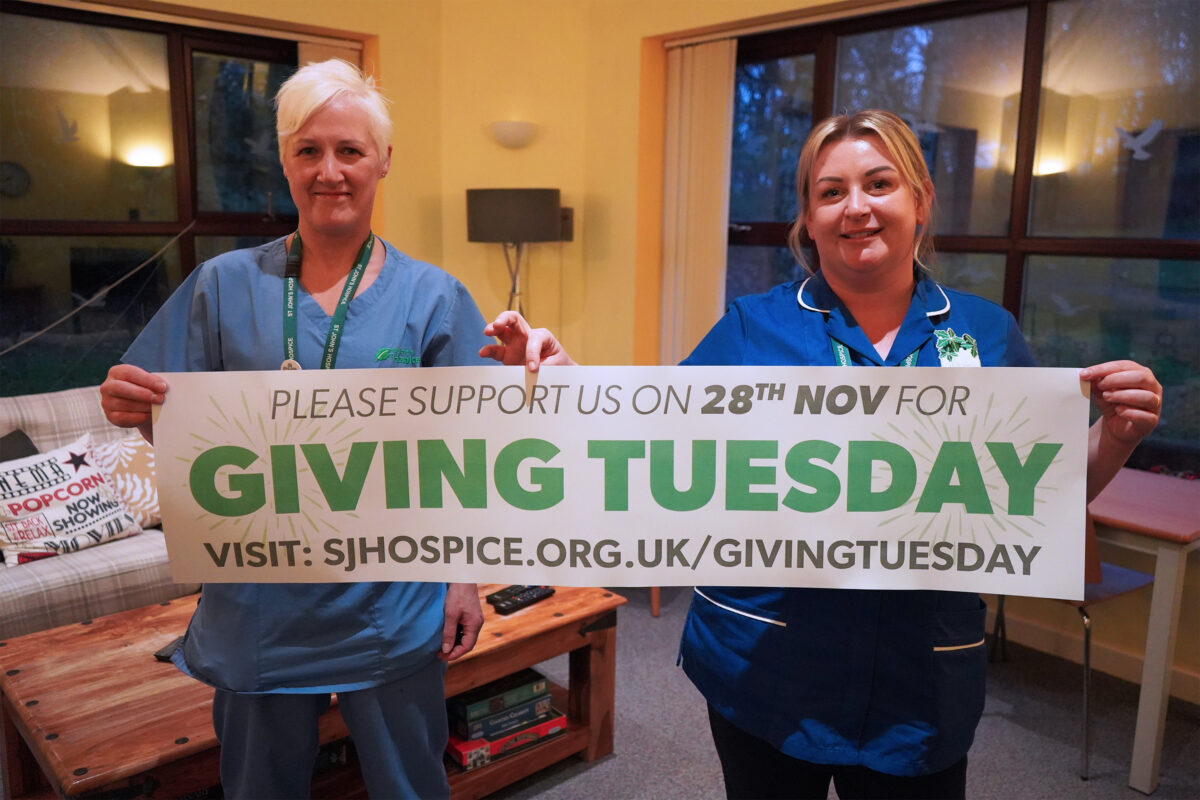 Tuesday 28th Nov is Giving Tuesday! We're hoping to make Christmas come early by raising £3000 in just 24 hours on this special fundraising day.
We are joining charities across the globe for the world's biggest one-day fundraising campaign which aims to encourage people to give, collaborate and celebrate generosity at at time of year when many of us are looking for gifts and bargain hunting!
Joining in with Giving Tuesday is simple – we have collected a range of presents that our wonderful supporters can donate the cost of through our website.
Why £3000? This amount could cover the costs of our Hospice at Home team visiting and supporting a patient and their family in their own home throughout the whole of December – including Christmas Day. The services of St John's Hospice are available to patients 365 days a year and are provided free of charge.
But these services are not without cost. St John's now need to raise over £4 million a year ensure our services remain available and free to the communities we service – including the South Lakes, North Lancashire and parts of North Yorkshire.
Thank you for supporting St John's Hospice this Christmas Season!
You can donate through the box below or visit our Giving Tuesday page.
Thank you for visiting St John's Hospice.
If you would like to know more about the 7 day Hospice Nurse Development Programme in Specialist Palliative Care please download our Evaluation Results Spreadsheet Below:
The 1st of May this year marked the start of a brand-new fundraising and engagement initiative from St John's Hospice – The 50-50-500 Charity Challenge.
In this new fundraising campaign for St John's Hospice, we invited 50 businesses to spend 50 days raising £500 each for their local hospice. The teams of fundraisers were encouraged to think of the most creative ways to hit their fundraising targets and compete to raise the most!
Business of all shapes and sizes, with and without connection to St John's were welcomed to the team for this season of competitive fundraising. Not only has St John's as a charity seen a huge positive impact from this initiative, so have the businesses involved. Teams have seen a boost in morale as they know they are making a huge difference to a local charity.
It has broken down barriers within workplaces and encouraged team building in ways they haven't done before.
After a brilliant 50+ days of fundraising efforts, Friday 28th July saw a special Celebration Event hosted by the St John's team at our very own Courtyard Café to bring the challenge to a close and award prizes to those teams that had gone the extra mile in their support of the hospice.
Fundraiser Lily Knight announced the fundraising total to be a HUGE️ £35,442.73. This total will make a huge impact in the vital care and services we provide to the local community.
The wonderful catering team also served up their famous Fish & Chips which were thoroughly enjoyed by everyone before they settled down for the awards ceremony.
There were 7 awards up for grabs, the winners were:
The Alfred Wainwright Award presented by Adventure Trails UK – SQ Digital
The Sustainability Award – Team Armstrong from Lancaster EE
Innovation Award – Mighty House
Engagement Award – Premierline
Best Event – Porsche Centre South Lakes
Fundraising Team of the Year – Simply Baby Lancaster
The Lancaster Guardian kindly sponsored and presented the Charity Challenge Champion Award for the team who raised the highest amount of money. The shield was presented to Lancaster EE who raised an amazing £5,048.80!
Could your business make a difference to your local community or want to get involved in the 2024 Charity Challenge? If so, get in touch – [email protected] Visit the Charity Challenge page to find out more.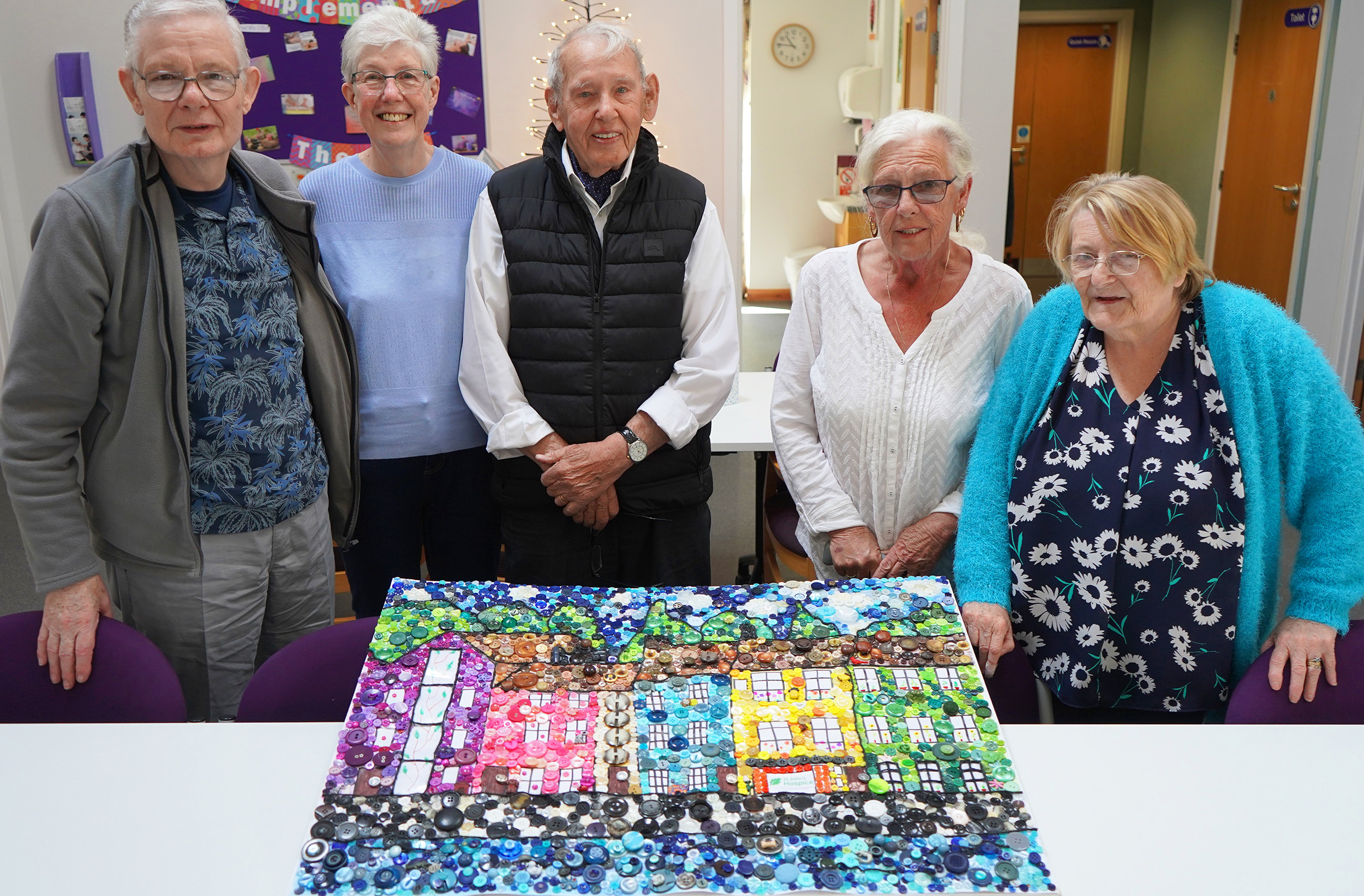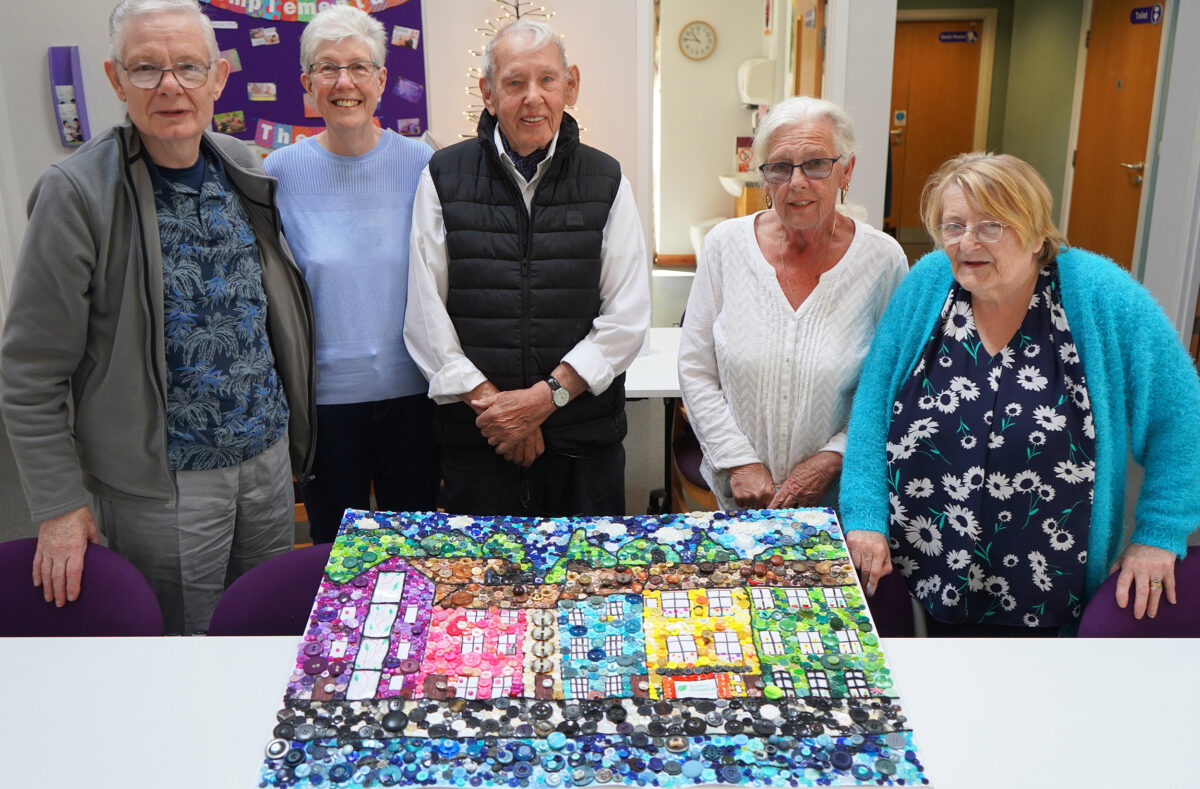 We're delighted to present to the latest artistic creation from our Day Therapy Services Groups! This beautiful Lancaster Quayside scene has been created for the Community Wellbeing Art Competition at the upcoming Lancaster Health Festival.
You can go along and see the artwork as well as many other entries at The Storey building in Lancaster on 11th – 13th July where you can vote for our entry as well!
The scene is composed of hundreds and hundreds of buttons and some miniature surprise treasures that have been donated by the St John's Hospice community. Well done to all the patients and volunteers from our Craft and Drop-In Groups for their creative work!
This is the 3rd time St John's Hospice has entered the art competition. Some may remember our wonderful 'Pimp my Zimmer frame' entry as well as our Ashton Memorial collage, made up of staff and patient fingerprints.
The return of Day Therapy Services has gone from strength to strength with groups now operating to serve patents with different needs as well as the carers who support them.
Visit the Day Therapies and Support page for more information.
You can find out more on the festival on their website: https://www.thebayhealthfestivals.org.uk/event-details/bay-health-festivals-lancaster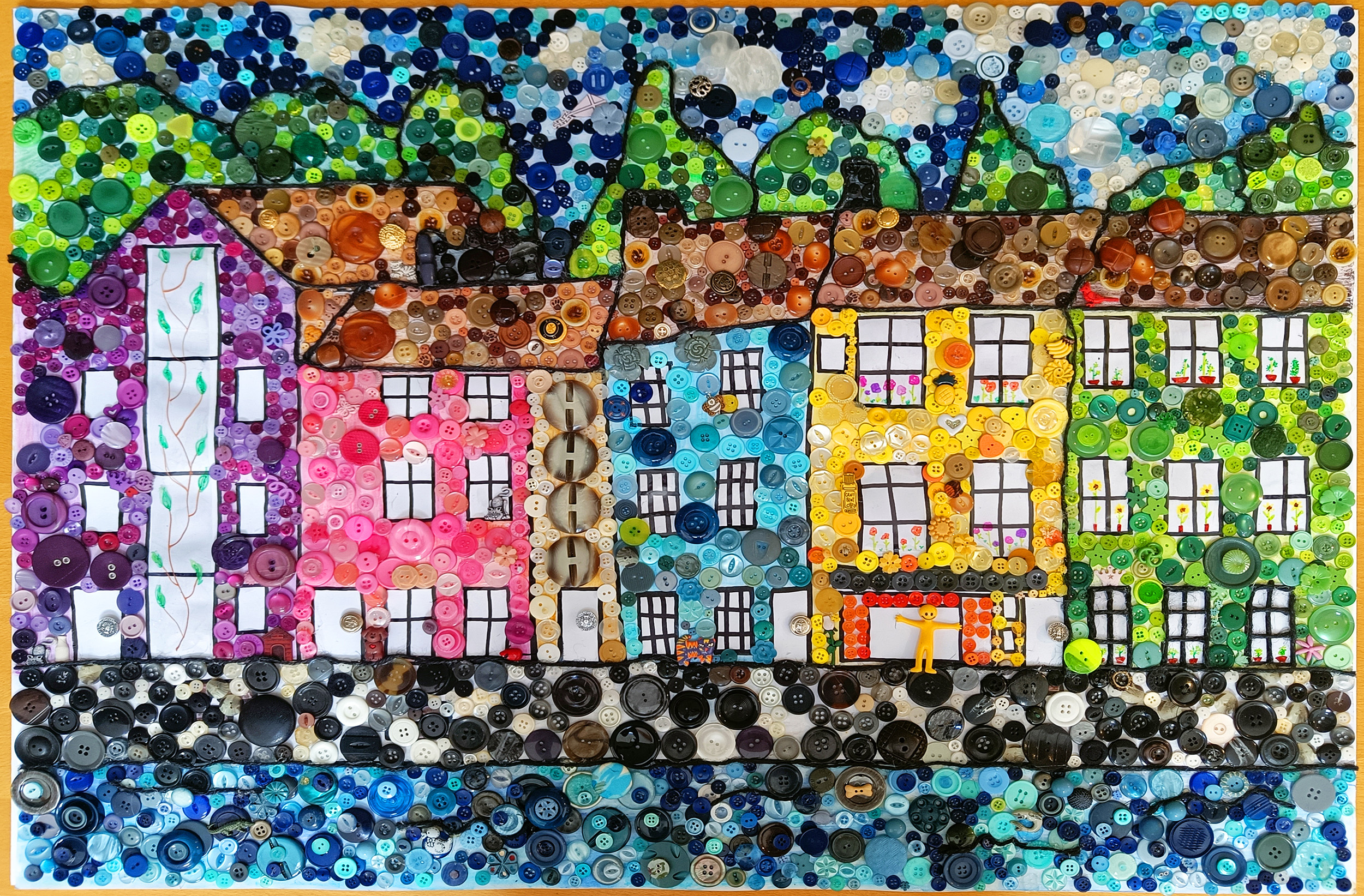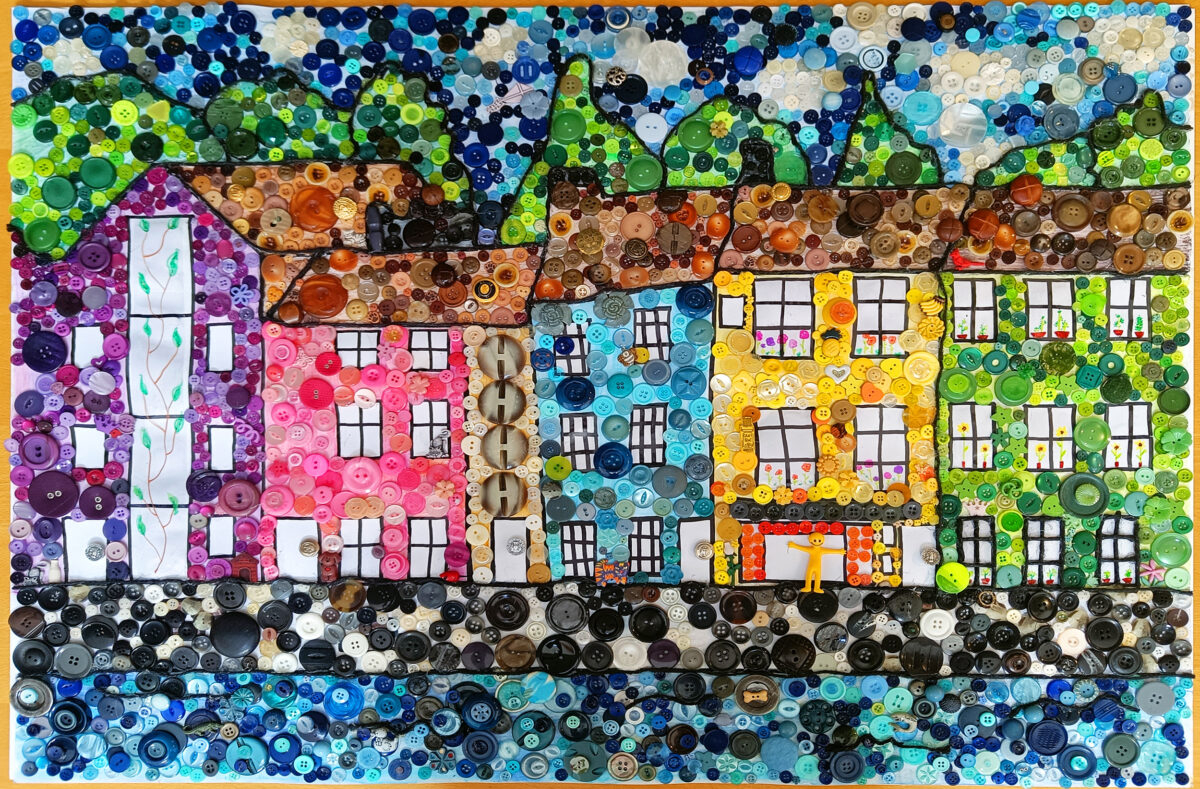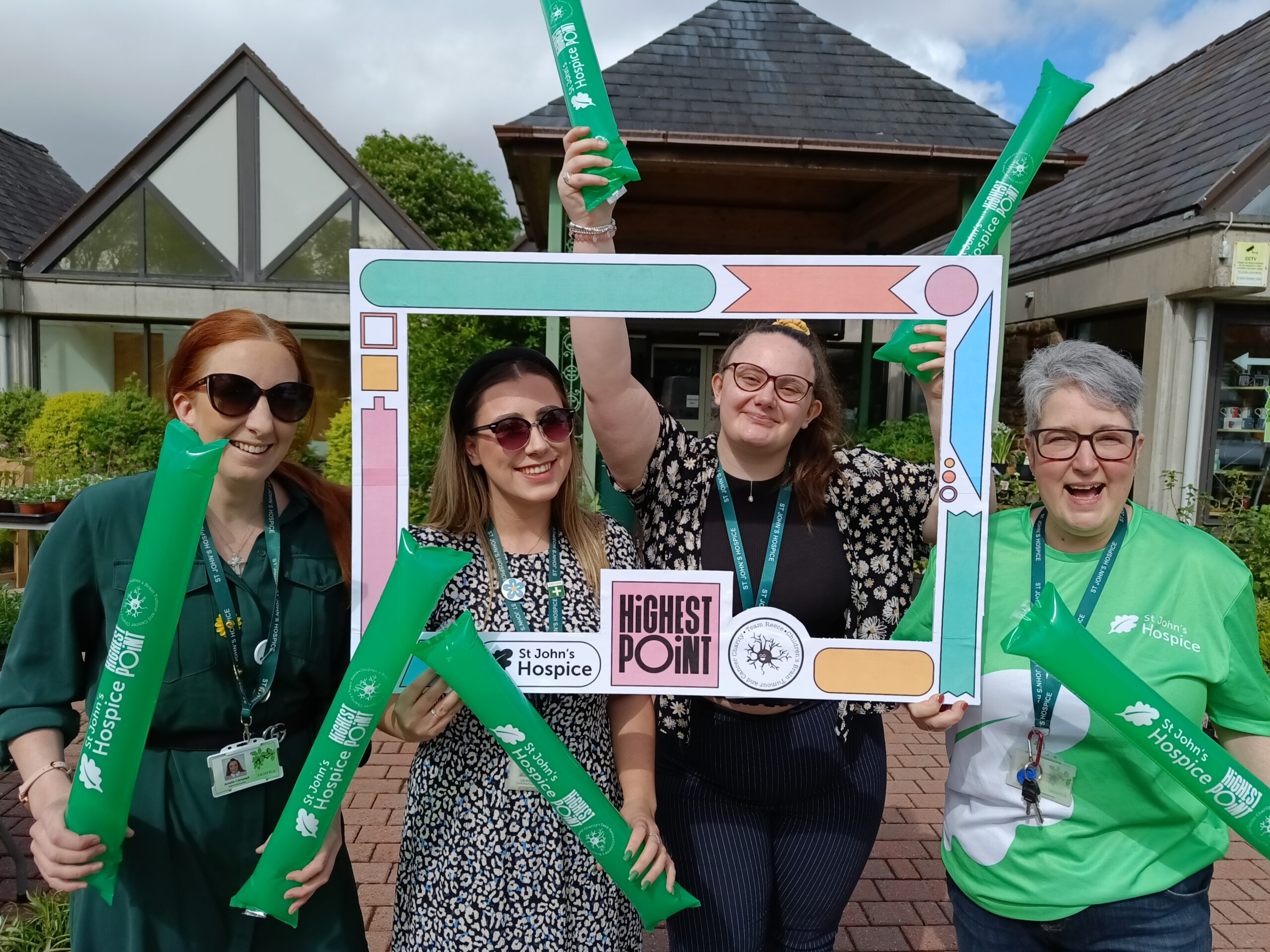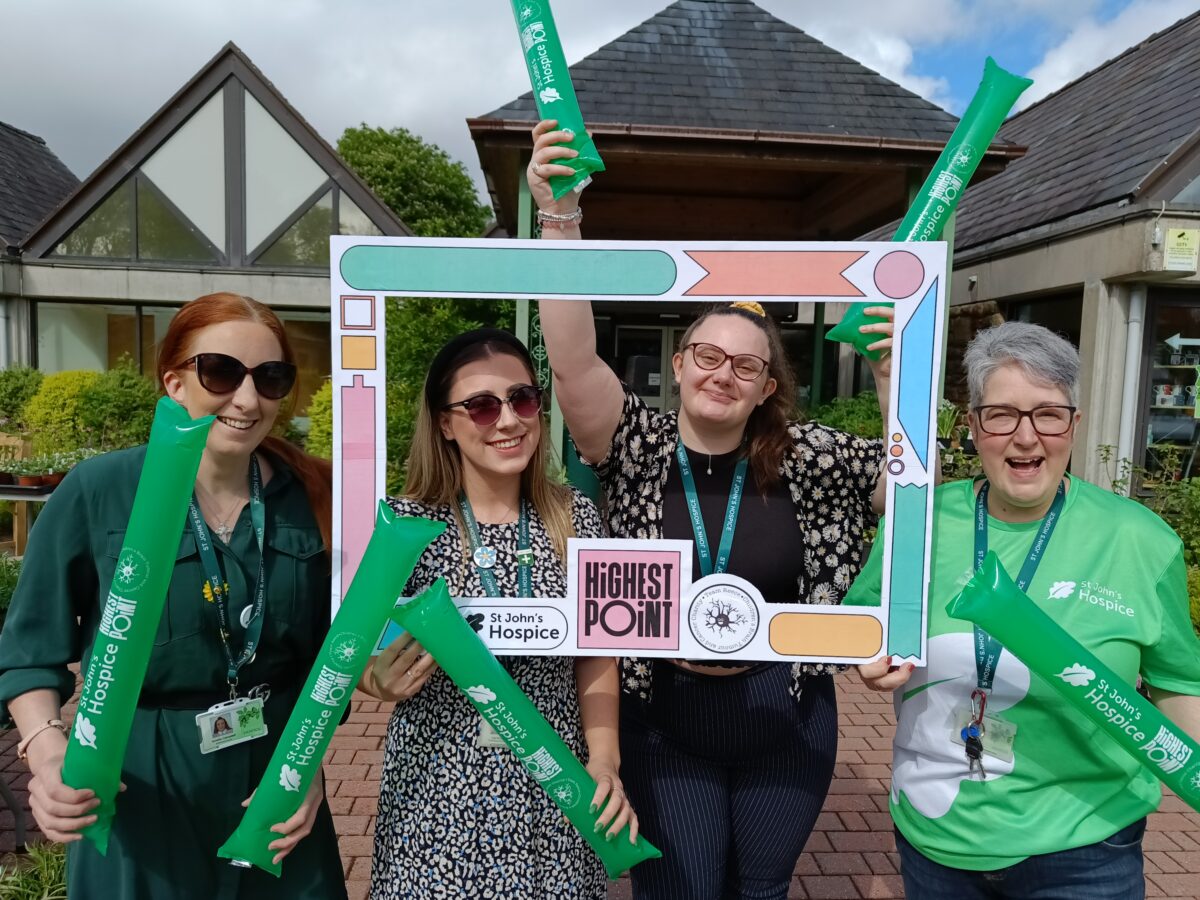 St John's Hospice heads to Highest Point Festival at Williamson's Park in Lancaster! Along with local children's brain tumour and cancer support charity Team Reece, we've been given the amazing opportunity by the festival organisers to represent at this hugely popular festival to spread the word about our services.
Our team of staff and volunteers will be there from Thursday 11th all the way through to Sunday 14th May in the Foodie Village meeting and greeting festival goers and talking to them about the amazing work that St John's Hospice does in the local community.
We'll also be letting everyone know about the brilliant volunteering opportunities we have throughout our organisation including our exciting charity retail shops like our Kingsway Sustainable Superstore and soon to open Caton Road Superstore!
The team will also have a range of great festival merchandise to buy including our Highest Point boom sticks. Plus, we'll be giving out discount vouchers for our awesome Kingsway Sustainable Superstore where you can find some great last-minute festival outfits! We'll also be collecting donations to support the hospice.
We're looking forward to seeing everyone at Highest Point 2023! Come and meet the team, say hello and have a great time.
Every year, people around the country use Dying Matters Awareness Week as a moment to encourage each other to get talking about dying, in whatever way, shape or form works for them. In 2023, Dying Matters Awareness Week will take place from 8 – 14 May.
This Dying Matters Week we are talking about death, dying and grief in the workplace.
Two members of the St John's Hospice team, Emma (Head of Inpatient Services) and Charlotte (Community Palliative Care Clinical Nurse Specialist) have made a short video to offer you some guidance and support when welcoming a colleague back to the workplace who has experienced a bereavement. We hope you find their chat useful.
Please share this video so that together we can all be part of a compassionate community.
For more advice on bereavement and all aspects of Palliative and End of Life Care listen to The Hospice Podcast from St John's Hospice – available wherever you listen to podcasts – including Spotify, Apple Podcasts, Google Podcasts, Amazon Music, PlayerFM and PodBean. Just search for "The Hospice Podcast".