our adventure starts: 5th November 2022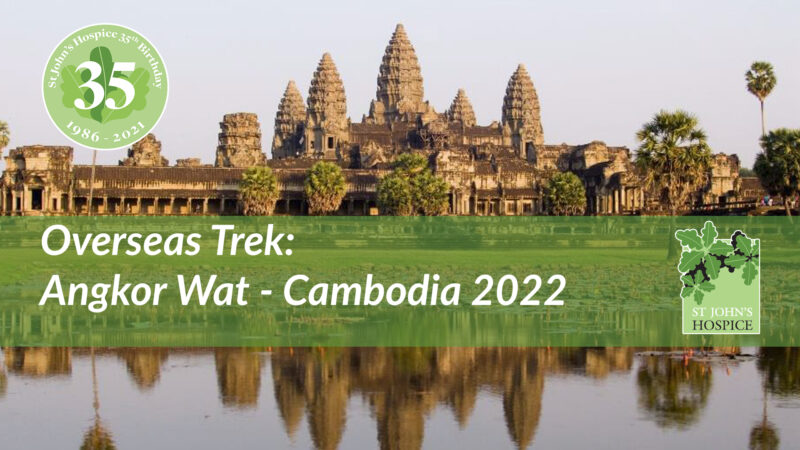 Our 2022 overseas trek destination is Cambodia and the breath-taking Wonder of the World and UNESCO World Heritage Site of Angkor Wat!
Our 2022 Trek will be a hot 9-day challenge taking us across the hills, valleys and dense forests of this amazing place while visiting historical sites such as Cambodia's many temples and ruins.
Cambodia is a stunning Southeast Asian country renowned for its welcoming people, rich history and beautiful landscapes, bordered by Thailand, Laos and Vietnam.
Starting at the capital of Siem Reap our challenge will see us head out across Cambodia seeing the rice-paddies and small villages of the farmland as well as its temples and pagodas. We will visit many exciting locations including Beoung Mealea, Kulen Mountain (Cambodia's sacred mountain), Big Buddha, The River of 1000 Lingas and of course our final destination, the 12th century temple city of Angkor Wat.
Key Details
Duration: 9 days
Trek Grade: Challenging
Cost per person: £3,800 (£1,874 Cost of the trip & £1,926 Fundraising target)
The total cost can be made up of any combination of fundraising and your own money if you wish. You can fundraise every penny if you want to!
Option A – Minimum Sponsorship
Registration Fee £325 (non refundable – paid directly to our tour operator Global Adventure Challenges)
Minimum Sponsorship £3,800
Option B – Self-Funding
Registration Fee £325 (non refundable – paid directly to our tour operator Global Adventure Challenges)
£1926 fundraising pledge
Challenge Balance £1,874
Support YOUR Hospice
This is an amazing chance to explore a beautiful country and its many wonders while raising money to support YOUR hospice. St John's Hospice has continued to operate throughout the Covid-19 pandemic, delivering its vital services throughout the communities all while not being about to operate fundraising operations as usual. This trek is a wonderful opportunity to challenge yourself and help keep your hospice caring!
Your hospice needs you to take up this challenge to ensure that we can continue to be there when people need us most. Like the trek, fundraising is a team effort and the St John's Hospice fundraising team will help you every step of the way in helping secure your funds.
You can read about our last overseas trek to Nepal from 2020 on our trekkers blog here.
If you think you are up for this challenge you can sign up today. If you have any questions please get in touch, our fundraising team will be happy to help.