This is a story that comes from the hearts of many. Kerry and Jo are members of the Strawberry Girls – a group of women dedicated to fundraising for local charities. The Strawberry Girls fundraising efforts for St John's Hospice tell an active tale of taking part in 10k runs, marathons, 'Born Survivor ', 'Tough Mudder' trials, bike rides and more. The Strawberry Girls also love the gentler St John's fundraising events such as the Colour Dash, and of course the Moonlight Walks. There is also a fondness for the sweeter side of fundraising with their afternoon teas and cake sales!
Kerry, Jo and Sara, another of the Strawberry Girls, started fundraising for St John's 35 years ago and clearly remember arranging a fundraising pub crawl and then taking the funds to the Hospice. They remember meeting the nuns who were very grateful as well as happy to see that young women were already keen to help their local Hospice.
Kerry said, "The Strawberry Girls mean the world to us, we've been best friends for over 30 years. When we do something, we do it wholeheartedly.  Every event we take part in raises money, it could be £50, £1,500 and it could be £5,000 – everything adds up to keep St John's going so they can be there for families.
When Jo's mum (Cris Furey) got poorly 7 years ago, the Strawberry girls all rallied round to support their friend.  We all started running, began fundraising in her mum's memory and as a way of supporting Jo through her grief.
Jo shared her story, "My mum passed away seven years ago and was cared for by the St John's Hospice at Home team.  Munchkin (mum's nickname) first got poorly in September 2013 and she knew that it wasn't going to be good news.  She had a scan in December and received the diagnosis in the January of 2014. Munch spent some time in St John's Hospice as an oncology specialist had recommended it for pain management. When end of life was on the horizon she came home as that was where she wanted to be. The Hospice at Home team made being at home possible, they were outstanding. They provided support to us all, they liaised with other health professionals and provided such amazing care for my mum. The service that the Hospice at Home team provide is exceptional and Munch passed away peacefully on 16th June 2014.
In July 2019 Kerry's mum Meryl, a nurse for over 50 years, was given the devastating news that she had lung cancer and unfortunately it was terminal.  Meryl undertook four rounds of chemotherapy in the hopes of extending her life but by Christmas she was too ill and she was given the news that there was to be no further treatment.  As her mum Meryl was starting to struggle with deteriorating health Kerry stepped up her fundraising efforts even further.
Kerry said, "The Hospice at Home team were absolutely wonderful as they were with Jo's mum. Even in the midst of COVID-19 they didn't let us down and came out to care for my mum. My dad wanted mum at home and that's where mum wanted to be too. Mum was so selfless, as a nurse she was worried about the cost of the PPE for the nurses that were coming in to see her and was determined to use telephone support as much as possible. Nurses like Josie came to see mum regularly, Josie understood mum's illness really well and she also made sure the rest of the family were okay too.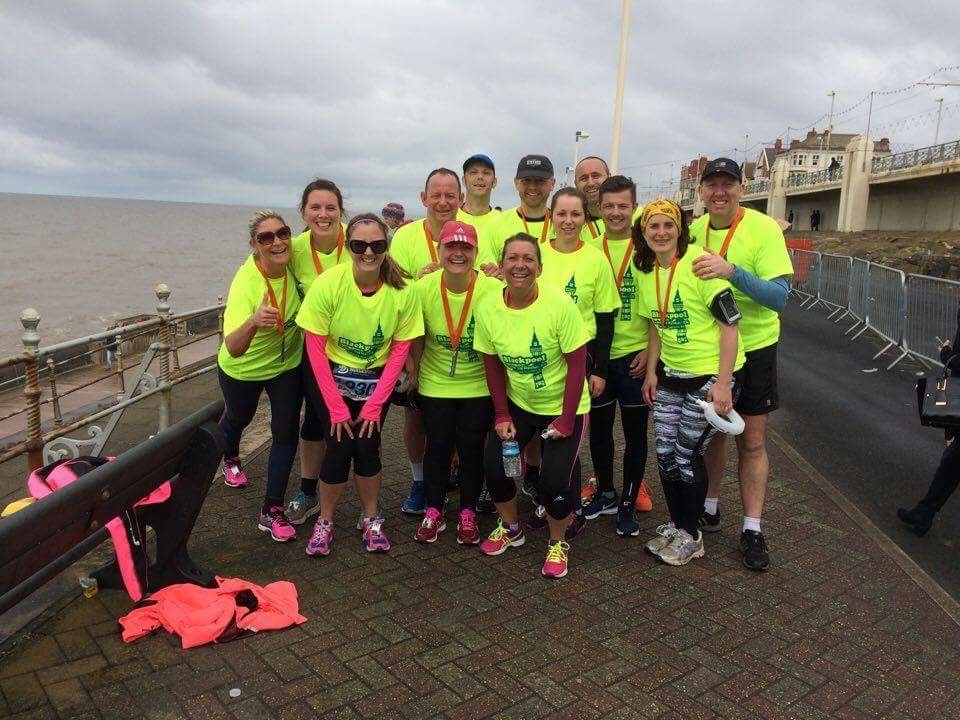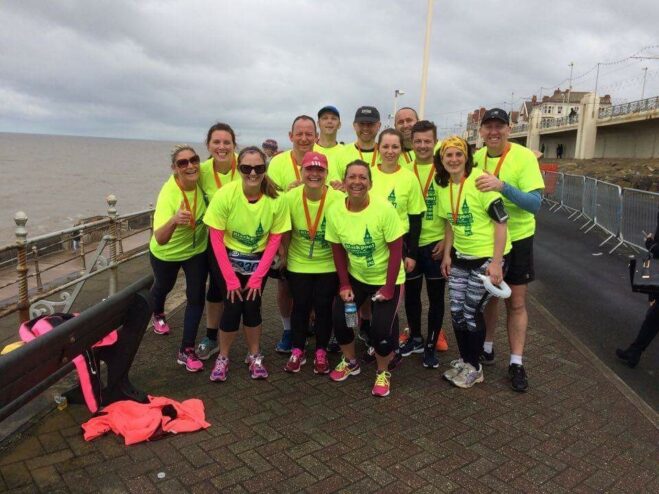 "I miss mum, she was the life and soul of the party: She was always the first and last on the dancefloor. Her motto was: 'work hard, play hard'. Mum knew her illness was terminal, she knew what she wanted to do before she died and made sure it happened, such as writing a diary about her life for my daughter Ellie, appearing in a short fundraising film for St John's and asking for donations for St John's and a charity for the homeless at her funeral. "
Kerry remembers many years ago that her mum had memories of deaths before Hospice care, saying that, "You remember a bad death and it upsets you, stays with you." It's one of the reasons that Kerry is passionately protective of St John's part in the community, believing it is so important to have St John's care in the Hospice and in people's own homes.
The Strawberry Girls would be the first to tell you that they didn't start out as 'super active'. Their first event in July 2014 was the Cancer Research 5k Fun Run at Lancaster University and then the Strawberry Girls and their partners followed this with their first 10k Born Survivor as part of Born Heroes with Fitness Formation. Following this we decided to host a community event every year in February/March called 'Munchkin 5k Fun Run' (Munchkin is Jo's nickname for her mum who was tiny in stature but big in heart!).
Both Kerry and Jo didn't want the coronavirus pandemic to stop their fundraising for St John's Hospice so during the coronavirus pandemic Kerry arranged a 26-mile relay run with friends and family around the streets she lived in as part of the 2.6 challenge to raise funds and Kerry and her husband cycled coast to coast in her mum's memory. Even when the Great North Run was cancelled, the Strawberry Girls arranged different events that people could take part in locally, running the virtual half marathon along the promenade in September. Jo explained, "Mum looks down on us and whatever the fundraising event she brings us 'munchshine'. Both Mums were full of fun and loved by so many people. In the words of Kerry and Jo, "We have been generously supported in our fundraising by our friends who knew and loved them both."
Kerry's Mum was a confident to so many, exceptionally caring and selfless. Kerry said, "Unfortunately, due to coronavirus we could only have 15 attend the funeral but hundreds of people lined the streets, clapping in her honour.  It was exceptionally moving."
Jo's Mum was a strong and independent woman who people came to for advice, guidance and support –she always kept secrets so she was the "go to" person for her friends too. She lived by the value of 'work hard and love the people who love you'.
So, there you are: 35 years of fundraising and from the heart. Walks, runs, half and full marathons, cycle rides, trails, cakes, afternoon teas and more – the Strawberry Girls continue to show their love for St John's Hospice. A huge 'Thank you' to Jo, Kerry and the Strawberry Girls for all that you have done and still do for St John's Hospice.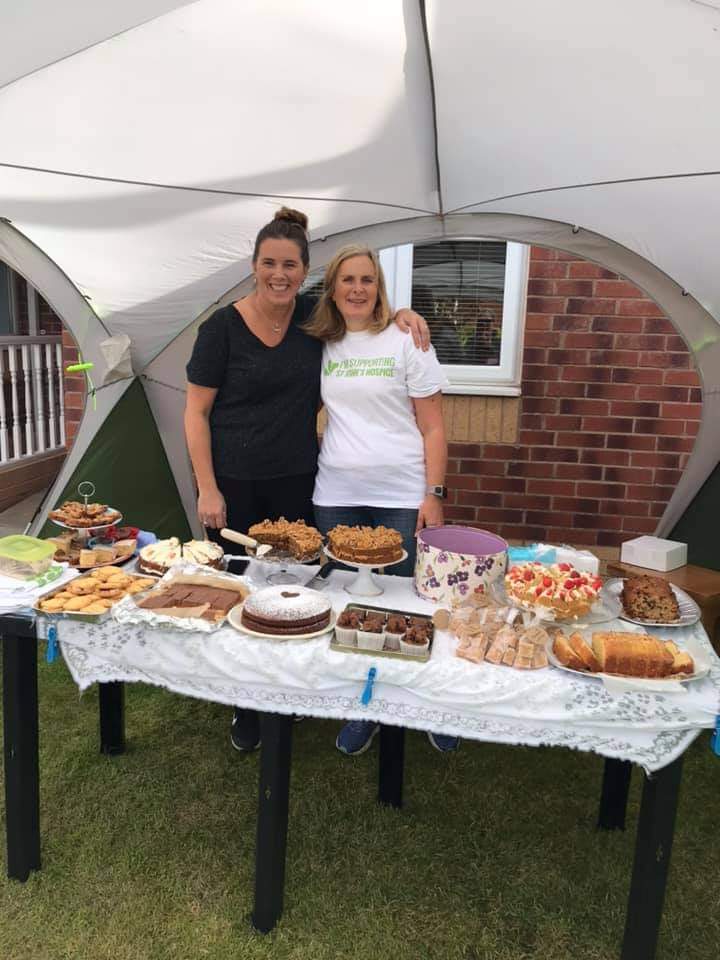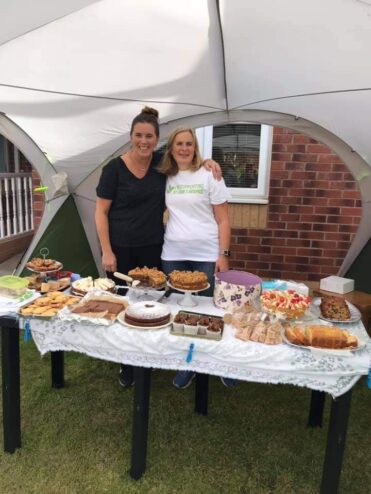 If you would like to follow in their steps by raising money for your local Hospice please contact the Fundraising Department at St John's Hospice on [email protected] or 01524 382538