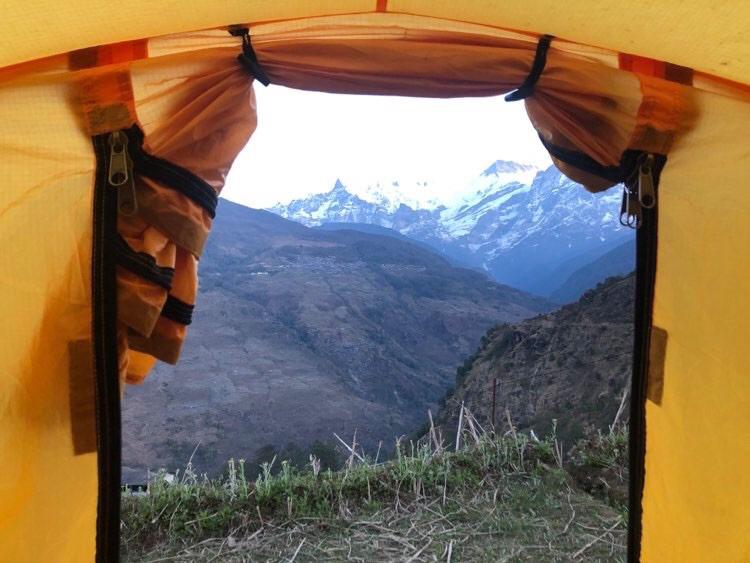 The final view from our tents this morning was not only highly emotional but also one of great achievement. We were about to embark after breakfast on our final hours trekking in the beautiful countryside of Nepal and the Annapurna range with an amazing group of individuals. As we packed our blue bags for the final time we all reflected on the last 5 days and the friendships we had made. Brought together by something so close to us all, we took every step, shared every moment and even shed a few tears for one cause 'St John's Hospice'.
It would be unfair to say that it hasn't been a challenge after all we weren't expecting a walk in the park. One thing is for certain, we have made memories that none of us will forget.
As we reached the end of the trek our jeeps were waiting to take us back to Pokhara. Off-roading in a jeep was an unexpected adventure as we went through rivers with buffalos in and whizzed by wild monkeys swinging in the trees. Before long we passed through villages and then the airport was in the distance. Our plane back to Kathmandu and civilisation was waiting for us.
Someone was certainly looking down on us as the sun shined as we rose into the sky and we followed the mountain skyline to Kathmandu.
We checked into our hotel where warm showers and clean clothes awaited us. With a bit of time to check out the bazaars and buy souvenirs before dinner the team enjoyed their moments together in one of the busiest capital cities in the world.
Our celebration dinner is hard to describe.  We were treated like kings and queen in a Nepalese restaurant whilst being entertained and treated to the local 'Roxy' wine? The speeches came from our leader and guide Ken who made an impression on everyone and if we ever do another trip Ken has the job of leading us as he was just  'awesome' in the words of the trekkers. Then their was Lindsay our medic, always there to support, share and ensure no worries went unheard.   Ken and Lindsay would be welcome anytime to share adventures with St John's as they help us make memories we won't forget.
Catherine thanked the trekkers for everything they have done as without them all and their friend and families support we wouldn't be able to do what we do in our community. It had been an absolute pleasure to have one of our clinical nurses specialists Charlotte on the trip. She she's first hand the difference the money we have raised has made.
So dinner finishes and Rachael tells her stories and the laughter continues…..
We head to a local bar chosen by Gez, take over the sound system and for one more night we share and make memories.
Tomorrow we will go sightseeing before the long journey home.
If you would like to give our trekkers an extra boost of support, please click the button below;
SPONSOR THE TREKKERS