our adventure starts: 7th November 2024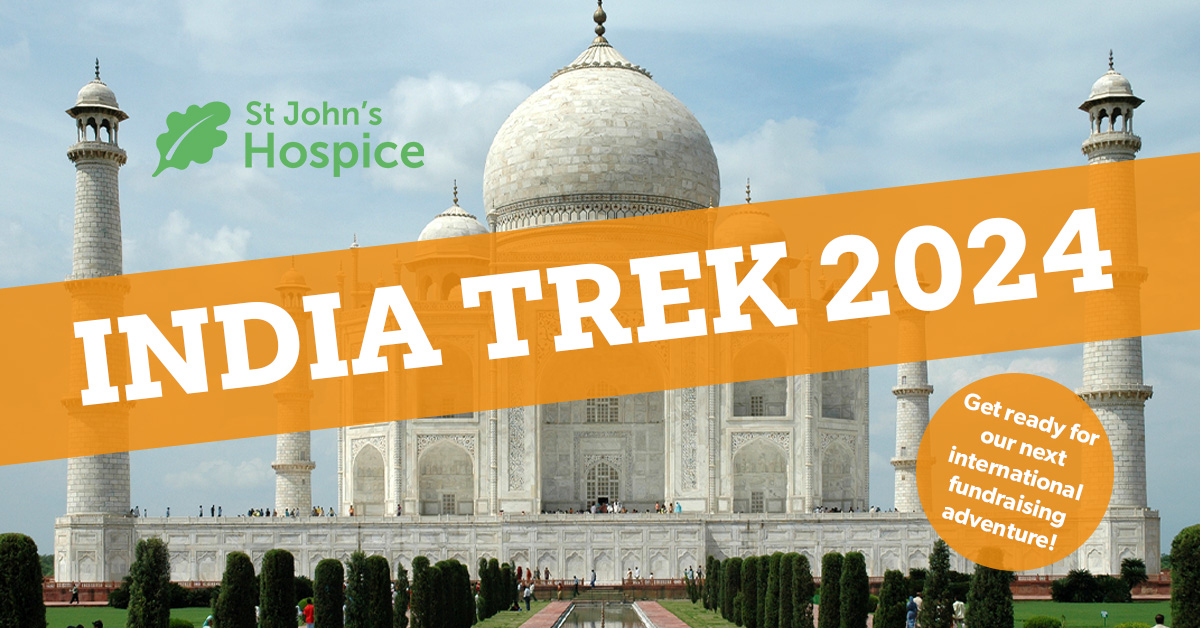 Join us as we explore India trekking through the foothills of the Himalaya's.
Our challenge begins in Dharamsala, where the Dalai Lama and the centre of the Tibetan Community are situated. We have time to explore this fascinating town before we set off on foot to explore this stunning region. Our 5 day trek takes us through rhododendron forests, passing through Hindu settlements and Buddhist Monasteries. To end our amazing challenge, we have some free time to explore the incomparable Taj Mahal – one of the world's greatest monuments to love ever built and one of the new Seven Wonders of the World!
Key Details
Duration: 11 days (7th – 17th November)
Trekking Days: 5
Trek Grade: Challenging
Cost per person: £3,800 (£1,857 Cost of the trip & £1,943 Fundraising target)
The total cost can be made up of any combination of fundraising and your own money if you wish. You can fundraise every penny if you want to!
Option A – Minimum Sponsorship
Minimum Sponsorship £3,800
You raise the whole cost through fundraising efforts.
(You must be clear in all promotions that a percentage of your fundraising target is to cover the cost of the trip for yourself)
Option B – Self-Funding
£1943 fundraising pledge Challenge Balance £1,857
You pay the cost of the trip yourself. You must then raise at least the fundraising pledge amount through fundraising activities or donation.
See the recording from our info evening with Craig from Global Adventure Challenge here
Support YOUR Hospice
This is an amazing chance to explore a beautiful country and its many wonders while raising money to support your local hospice.
St John's Hospice continued to operate throughout the Covid-19 pandemic, delivering its vital services throughout the communities all while not being about to operate fundraising operations as usual. Since then the hospice has continued to adapt to a very different fundraising landscape while continuing to offer outstanding care. This trek is a wonderful opportunity to challenge yourself and help keep your hospice caring!
Your hospice needs you to take up this challenge to ensure that we can continue to be there when people need us most. Like the trek, fundraising is a team effort and the St John's Hospice fundraising team will help you every step of the way in helping secure your funds.
You can read about our last overseas trek to Cambodia from 2022 on our trekkers blog here.
If you think you are up for this challenge you can sign up today. If you have any questions please get in touch, our fundraising team will be happy to help.
Just before Christmas 2022 St John's Hospice Shops opened their latest charity shop – The Sustainable Superstore
The latest addition to St John's Hospice's chain of nine charity shops, the Sustainable Superstore combines clothing, homewares and furniture to make a unique shopping destination in Lancaster. The shop, in the Kingsway Retail Park, has been expertly kitted out to please regular thrifters and novice charity shoppers alike.
Whether you're looking for unique gifts, vintage clothing, retro decor or even formal wear – you'll find it here. Separated into sections, there are themed areas, rails of clothing and an area where you can get a fresh cup of coffee to drink while you browse, or take a seat and catch up on information and events from St John's Hospice.
The new store on 
Kingsway
is St John's way to illustrate what they do, with their charity shops, to help reduce landfill, provide quality products at affordable prices and create a fun and ethical shopping experience.
Sophie Lea, Head of Retail at St John's Hospice, said:
"We have worked really hard to create a new type of shop for our supporters that really showcases the beautiful things donated to raise money for St John's care, and invite customers who might not have shopped with us, or any charity shop, before to come and see what amazing things you can buy second hand.

It seems it's more important than ever to do what we can to reduce waste. For example, we are working with a local community art group, The Good Things Collective, to feature local artists work which has been created with second hand and/or waste items and showcase what can be transformed with some imagination and love. They even made our fantastic shop sign from repurposed pallets, which we think looks gorgeous!

The cost-of-living crisis is hitting hard across the UK and for many, buying new simply isn't an option. We would like to remove the remaining stigma around shopping in charity stores by creating an inviting, visually pleasing space that provides good quality goods that don't break the bank, so that the old misconceptions around charity shopping are dismissed!

I would like to thank our wonderful and hard-working staff and volunteers for all the work they have put into this project and of course to our amazing supporters for donating to us and shopping with us to provide valuable income for the Hospice to continue caring for patients and their families across our communities.
The Sustainable Superstore is open 9.30 – 17.00 Monday to Saturday and 10.00 – 16.00 on Sundays.
The team look forward to welcoming you for a browse!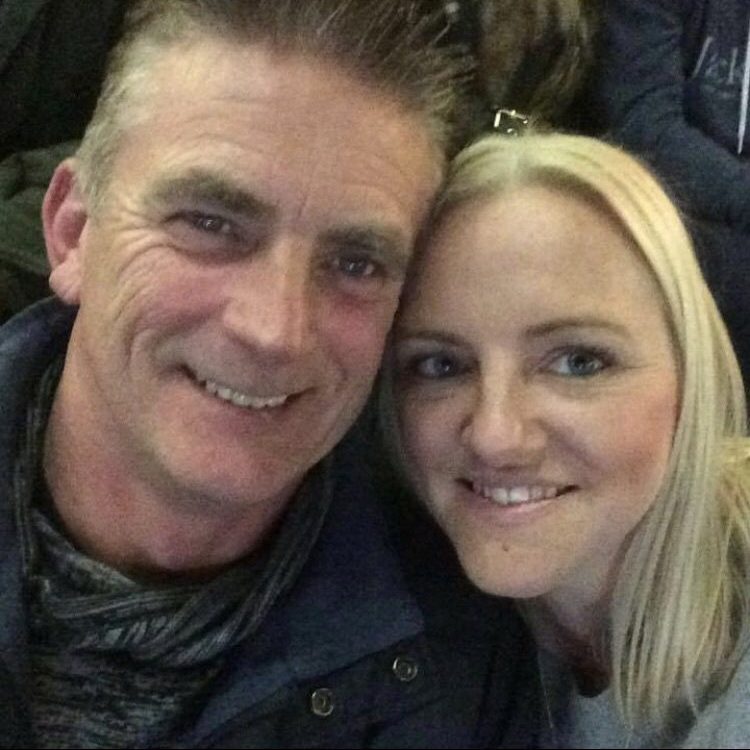 Claire Slinger shares her thoughts of St John's Hospice and her beloved late husband Mark –
"I didn't think I would have this conversation to write this story: I guess no-one ever does? 
My lovely husband Mark was a Morecambe man, born in 1959, we met in 2005 when we found ourselves chatting in a bar. We became good friends but soon romance blossomed and we were married a year later! We travelled together and spent 3 and a half years living in Australia. When at home, Mark indulged in his hobbies of motorbike riding and motocross. Mark was so 'handy', there was nothing he couldn't turn his hand to. As well as being clever – he was kind, he'd do anything for anyone and loved to socialise. 
Mark became poorly last year and was in and out of hospital as they tried to manage his pain. When Mark came home it fell to District Nurses and St John's Hospice at Home team to manage his pain. Mark and I were a little reluctant at first when we heard 'Hospice' yet our visits to the inpatient ward for his pain and symptom management showed us just how important and special the Hospice is. The staff at St John's are absolutely incredible and give a different level of care and empathy, which we both needed and really appreciated. 
We wanted to be at home for as long as possible and spending Christmas at home was important because we knew it would be our last one. St John's Hospice at Home team are fabulous, they are so helpful, they explained everything, make you feel at ease and give you options rather than "tell you" and they even came out to us on Boxing Day. Later on Boxing Day Mark knew it was time to go back to the inpatient ward. 
He settled quickly on the inpatient ward because he felt at ease, he knew it and had had Christmas at home. Mark loved to look at the Hospice grounds and with a wheelchair I was able to take him around them for fresh air and to enjoy nature. The St John's team cared for me as much as they cared for Mark, they are so kind and so professional, I look at them and think, "How do you do it?". I stayed at Mark's side while we saw in the New Year, and every evening I was able to lie next to him because of the Hospice cuddle bed. Those days will remain precious to me – they meant we could stay together until he died in early January. 
I am so grateful to this local charity for all they have done for Mark and I."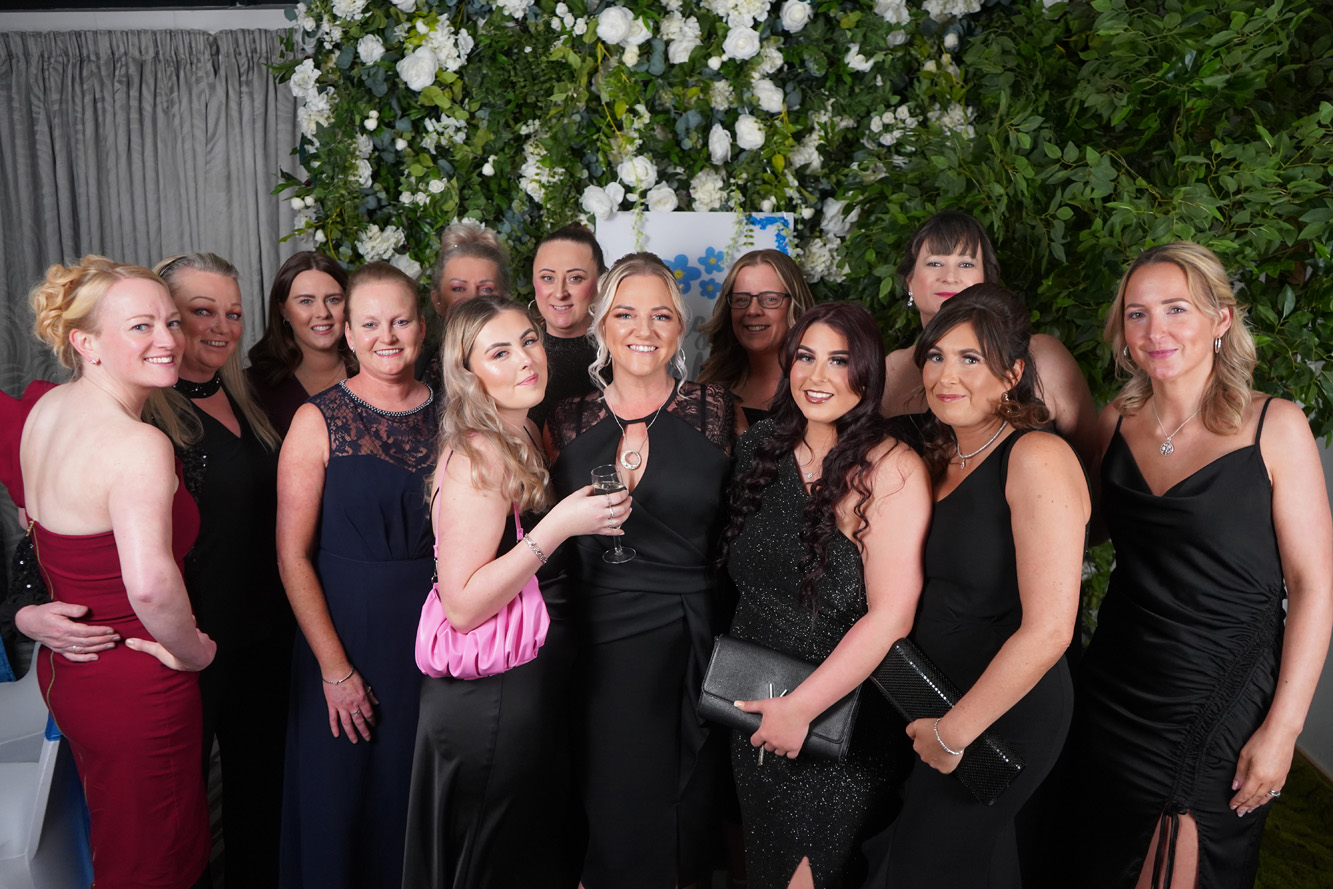 Claire and her friends attended the Forget Me Not Ball to support St John's for the care Mark received
We woke up early in the shade of a beautiful Buddhist temple for the last time. After presenting our fantastic support teams with gifts, we left camp at the coolest part of the day. A short 7k walk in the growing, humid heat meant we had to shelter in the shade of the cashew and lychee trees wherever we could. After 7k we finally crossed the finishing line!
It's fair to say, it was an emotional moment for all of us Relief that the challenge was over, emotional memories of loved ones who have died in the care of the Hospice and a sheer sense of relief that the challenge (and it was definitely a challenge at times) was over.
We were met by a string of tuk tuks and transported to Angkor Watt, a sight we had all waited so long to see. In the early afternoon sun, we crossed an imposing bridge across a lily covered moat and entered the grounds of the largest religious monument in the world. Built between the 9th and 15th centuries this is a Hindu temple constructed when Siam Reap was the centre of the Khmer empire. It was a home for the gods, no-one lived here or worked here, it was simply built to honour the god Vishnu and is a symbolic representation of Hindu cosmology.
We then took another tuk tuk ride to our lunch stop before visiting two further temples, Ta Prohm and Bayon. Ta Prohm is best known for featuring in the 2001 film Tomb Raider. Its courtyards and towers are in the stranglehold of ancient trees.
The tuk tuks then whizzed us back to the center of Siam Reap for a last night in a hotel. After a week of washing with a bucket and cold water, a warm shower was very much appreciated.
We shared one last meal together and reflected on the amazing experience we have had.
We walked as one group, supporting each other as we faced our challenges along the way. Cambodia is a wonderful, welcoming country and we have so many memories of its warm and hospitable people, its abundant and natural beauty and its simple, devout way of life that we have been privileged to share.
We will be announcing the destination of our next trek very soon. For more information about trekking with St John's please email [email protected]
The St John's Hospice Cambodia Trekkers
You can sponsor our amazing trekkers via JustGiving: www.justgiving.com/campaign/Cambodia22
We Finally saw our camp in the light. This was the most "wild" place we stayed. Next to a fast flowing river, literally, in the middle of nowhere.
After a walk into a nearby village we removed our shoes, covered our knees and shoulders and climbed high above the canopy of the trees to visit the "Big Buddha". A beautiful, reclining Buddha, surrounded by colourful murals and thousands of offerings from visitors from all over the world. We were honoured to be allowed to ring the gong in the reclining Buddha's temple. It was stunning. At the top of the mountain, in the highest temple our guide, Nak, explained the evolution of religion in Cambodia from animism to Hinduism to Buddhism. It was interesting to hear that all religious icons are revered by all, whatever they believe.
We then walked to the famous 1000 lingas river. Carved into the riverbed are the symbols of male and female reproduction. The water from the spring at the top of the mountain flows down to the many temples dotted across the hillside. – it is known as the water of life. Our guide told us that Cambodian ancestors who were Hindu had tried to recreate the Ganges in Cambodia and that is why the carvings are so extensive and elaborate.
After another winding trek through the jungle, we came to 400 steep steps down the mountain. We stopped halfway at an amazing temple where the "water of life" from the top of the mountain flowed underneath the Buddha. The local guides "blessed" us with the Holy water to wish us well as we headed down the next 200 steps.
The afternoon was brutally hot. A few people struggled with blisters and aches and pains but with great team spirit, support from our trek doctor, Tansy and the trek team we finally made the long walk into camp about 5pm.
Camp tonight is another amazing Buddhist temple. Our tents were waiting for us and a few of us enjoyed ice buckets for our aching feet. It is interesting to think how Hospices were originally lodgings for pilgrims, usually run by religious orders, where weary travellers could stay the night during their long journey. Just as we have done each night with our remarkable and warm-hearted Cambodian hosts.
The St John's Hospice Cambodia Trekkers
You can sponsor our amazing trekkers via JustGiving: www.justgiving.com/campaign/Cambodia22
We started the day with a warm up session with our very own Dr Phil. We definitely needed it after yesterday's hot walk – there are lots of aches and pains now. The we headed up Kulen (lychee) Mountain – straight up! And it was a long, hot climb with some scrambling and paddling to keep us on our toes.
The top of the mountain is a plateau, snaking through small villages. The villagers here farm cashew nuts, pomelo, lychee, jackfruits and coconuts. A very different landscape to the paddy fields in the valley below. This is a country where working the land is necessary and every area that it is possible to farm is utilised. Our long, hot climb was rewarded by seeing the village children who live at the top of the mountain. They were so grateful for the small gifts we gave them – pens, pencils, hair clips etc.
A long, winding walk along a dry riverbed (although in some places it was still pretty wet after the recent rainy season) led us to lunch. A little later today because the walk was hard. Many of us have trained on the Lake District hills, but a hill in 30 degree-plus heat brings challenges we couldn't possibly have prepared for, so our walking pace was definitely slower and a few people found the heat really difficult.
It was dusk when we arrived at the picturesque waterfalls. A few hardy souls made it down the rickety steel steps to the main falls before we were transported back to our third camp. It was dark by the time we arrived so we were unable to swim in the river – something to look forward to in the morning.
Today was described as "tough" in the itinerary and that proved to be true. A hard day for everyone, we were glad to get back to camp this evening.
The St John's Hospice Cambodia Trekkers
You can sponsor our amazing trekkers via JustGiving: www.justgiving.com/campaign/Cambodia22
Today is a full moon in Cambodia and it is auspicious to be blessed by a Buddhist monk at this time. Before we set off this morning, we were honoured to take part in a blessing to wish us well on our journey. A very special ceremony that moved everyone. Then the day began!
We were heading to the base of the Kulen mountains, following heavily rutted cow cart tracks, recently flooded after the rainy season. Although we started early, by 8.30 the temperature was nudging 30 degrees and humidity was high. We crossed some make-shift rickety bridges before heading out over bright green, swaying in the wind paddy fields. The fields are teeming with wildlife which we (fortunately) could hear but didn't really see much of today – it was probably too hot! Our lunch miraculously arrived in our trusty tiffin tins – we were delighted to be served fish and chips Cambodian-style with delicious vegetables and (obviously) more rice.
Then it got hotter. It's fair to say this afternoon was tough. Our terrain was very open, very little shelter and the temperature was still rising. A few of us struggled with the last hour today, we have a few injuries, an outbreak of "prickly heat" and bites galore. We were pleased to see the finishing line today and especially pleased to climb into our air conditioned bus! On the way to camp we visited Beng Mealea, a little known temple of fascinating ruins. It was sad to hear how in the 80's the temple had been ransacked and precious artefacts stolen, many of which are in Museums in the UK and USA.
A sign at the beginning of our trip to the temple reminded us of Cambodia's troubled history, at the entrance to the park a sign warned us about wandering far from the path because over 400 land mines had been cleared but no-one knew if there may be more.
We took a short detour to a very special place next, a place our fabulous guide Nak called the "posh toilets"!! Yes they flush and there is an actual toilet!!! It's the small things that count when tired and emotional! Then we arrived at camp in Svay Leu Pagoda. Another amazing Buddhist temple where, when we arrived locals were being doused in water by the monks to mark the full moon. Our legs are tired, we have aches and pains but we are all so blessed to be here, sharing such wonderful hospitality with our remarkable Cambodian hosts.
The St John's Hospice Cambodia Trekkers
You can sponsor our amazing trekkers via JustGiving: www.justgiving.com/campaign/Cambodia22
Up early to take a 40-minute coach ride to our start point. Once we left the city, the roads became very challenging! We dodged whole families on one moped, small children on bicycles and cattle, dogs and kittens galore.
Gradually, the beauty of Cambodia began to unfold. Paddy fields, tapioca crops and wild lemon grass and basil – this is a place where whole families tend the land together and children proficiently fish in the many lakes that are dotted across the fields.
Today was hot! Our first stop was at a beautiful Buddhist temple where a community of monks welcomed us. Our local guides were one step ahead, waiting for us with snacks, fruit and drinks that we sorely needed to help with the oppressive temperature. More agricultural land after our break with ginger and nicotine plants this time. Just when we thought it couldn't get any hotter, the sun beat down. So much so, our guides advised an early lunch. We took shelter in a wooden shack and the amazing team arrived with tiffin cans for each of us. In the middle of nowhere we enjoyed spring rolls, a curry and delicious jasmine rice.
A little cloud cover helped us start the afternoon section cooler. We have a great group – young and older, experienced and novice walkers – but everyone walking together as a team. Our last break of the day was at an elaborate public park with giant elephant and tiger sculptures – quite a surprise in the middle of nowhere!
A short walk to the end and we entered our camp for the night – what a pleasant surprise! Our tents were waiting for us, a shower had been set up (who knew a bucket and cold water could be so appealing?!) and underneath the trees, tables were set for our first dinner on the edge of the jungle.
A chance to reflect on the highs and lows of a challenging, hot day, getting used to a big-time difference (we started walking today at midnight UK time) and really appreciating the warm welcome we have received from the wonderful people in this amazing part of the world.
The St John's Hospice Cambodia Trekkers
You can sponsor our amazing trekkers via JustGiving: www.justgiving.com/campaign/Cambodia22
21 of us left the Hospice at midnight on the 4th November, cheered on by ward nurses Jules and Andrea. We picked up 2 trekkers in Preston then met the rest of our gang at Heathrow. After a gruelling 30 hours of travel we caught our first glimpse of Cambodia with a smattering of watery islands and houses on stilts – we're here! Cambodia is 7 hours in front of us in the UK so we all try hard to stay awake in the 30 degree heat.
After a first meal together as a team, Nak (our local guide) and Craig from Global Adventure Challenges brief us on our first day – a 6am start across paddy fields to spend our first night camping next to a working Buddhist temple.
Thanks to everyone who is supporting us at home, we presented the trek team with Hospice T-shirts sponsored by Atkinsons Fish & Chips and Gizmos Pizzeria (Our hoodies are sponsored by Morecambe Eats) – thank you for all your kindness.
The St John's Hospice Cambodia Trekkers
You can sponsor our amazing trekkers via JustGiving: www.justgiving.com/campaign/Cambodia22
Our amazing trekkers have set off on their 2022 adventure across Cambodia. You'll be able to keep up to date here on this Trek Blog.
As the St John's Hospice team receive updates we'll publish them here along with photos of how the team are doing.
This amazing adventure is an important fundraiser for St John's. Did you know that we only receive around one third of our funding from the local NHS? The rest of the funds we need to keep on providing care, compassion and support is raised through amazing fundraising efforts like the trek. You can sponsor our amazing team in their trekking effort right now via JustGiving:
www.justgiving.com/campaign/Cambodia22
Thank you to everyone who has already supported our trekkers!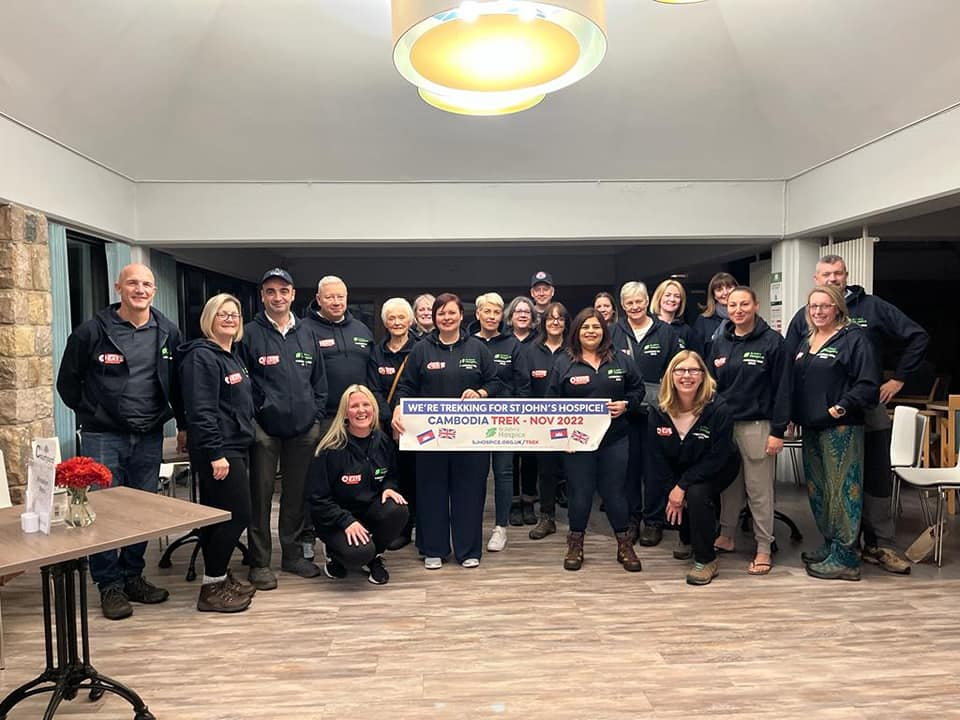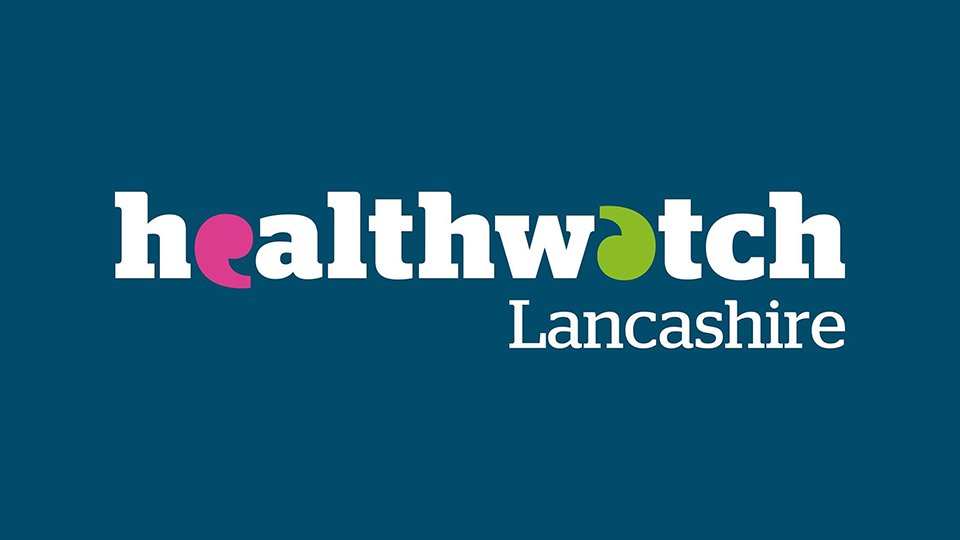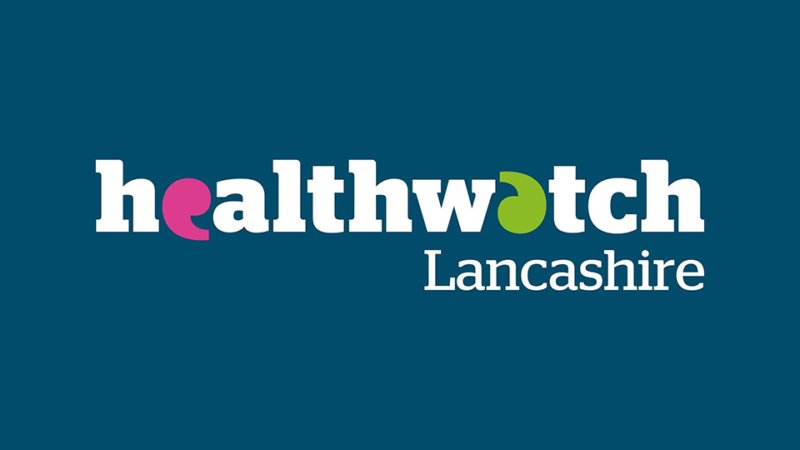 St John's Hospice recently invited Healthwatch to come for an 'Enter and View' visit in order to tour our Hospice, meet our staff and let us know if there is anything we can do better in providing care, compassion and support to our patients and families.
Healthwatch are an independent organisation set up to champion the views of patients and social care users in Lancashire, with the goal of making services better and improving health and wellbeing.
You can read their final report on their website:
https://healthwatchlancashire.co.uk/wp-content/uploads/2022/10/St-Johns-Hospice-Final-Report.pdf
The St John's Hospice team are delighted with the outcome of the report. This glowing report is a result of the hard work of all our staff. Well done to them all!
Please feel free to read the whole report. Here are few highlights:
Interactions between staff and patients were observed to be caring and professional at all times during the visit.
All staff members spoke highly of their team and that they felt comfortable speaking to anyone within the team
Feedback from relatives was exceptionally positive
All staff members had a very positive outlook and attitude and were very enthusiastic to the views and opinions of the individual patients.
No negative feedback was given about St John's Hospice and no one commented on anything they would like to change about the service.
Communal areas are clean and tidy and accessible to all. All the areas observed were clean, tidy and fresh smelling
The patients spoken to said they were very happy with the service they were receiving: "Itis absolutely fantastic, nothing is too much trouble." "I can't describe how good it is, it's absolutely amazing, the experience from reception to checking in. Nothing is too much trouble."
A staff member commented "I would definitely recommend this hospice to my relatives and if there is no availability, I know the packages available at home are just as brilliant.
This year make your special day one to remember – donate your Birthday to St John's Hospice!
It's really easy to set up you donation page via Facebook or JustGiving.
Then all you need to do is shout about it on social media and encourage your friends and family to donate!
Thank you and Happy Birthday from St John's Hospice! 
PS – it's not just your birthday you can donate! If you have an anniversary, party or other celebration coming up you can still fundraise to support our vital work in our community.
Welcome
Thank you for visiting the St John's Hospice website. Whatever your question, our aim is to help you.
I Need Help Now

I need palliative care for a relative, friend, myself or a patient.
The first step to getting care from St John's Hospice is to get a referral for our services, either for Inpatient Ward admission or for our Community Services.
Click the button below to visit our Referral page and take a moment to read through the process.

You can also speak to your healthcare professional like a GP, District Nurse or Hospital clinician about hospice care.
Myself a friend or relative has been referred to St John's for care and I need to know more.
St John's Hospice offers a number of services and the referral will reflect the level of need. You can find out about all of our services here on our website.
You are welcome to tour some of our facilities including our inpatient ward and Forget Me Not Centre. Please contact our Main Reception on
01524 382538
to arrange a visit.
I am currently experiencing a bereavement and I need help.
St John's Hospice offers a range of bereavement support services including Whole Family Support via our Forget Me Not Centre.
You can contact our bereavement team Monday–Friday, 9am–5pm via
01524 551195
We also off a free monthly Grief Café drop-in session at the Courtyard Café at the Hospice on the 2nd Tuesday of each month from 16:30 – 18:00. There is no need to book: just come along.
Where does St John's Hospice offer its services?
This St John's Hospice provides care in the South Lakes, North Lancashire and parts of North Yorkshire.

Please note that there are a number of other hospice organisations throughout the UK called St John's Hospice.

I have a fundraising or event enquiry.
Our fundraising team are responsible for the many exciting events and campaigns that we run throughout the year to raise funds for St John's, which is a charity.
They are available to contact Monday–Friday, 9am–5pm via
01524 382538
ask for the Fundraising Team.
Please do not ring outside of these times for fundraising enquires.
You can also email them via
[email protected]
or via the
Contact Us Form
.
I would like to donate to St John's Hospice.
Thank you! Donations help us continue to provide care, compassion and support to our patients and their families. Although we do not charge for our care, it is not free to provide so your donation is really appreciated. The easiest way for you to donate is via our website. Please visit our online donation page.
Alternatively, you are welcome to post a donation via cheque, made payable to St John's Hospice. Our address is below.
We are also delighted to accept in person donations at the Hospice in the form of cheques, cash or via a card payment.
If you have any donation questions please contact our Supporter Care Team, Monday – Friday, 9am – 5pm on 01524 382538. You can also make enquires via email to
[email protected]
or via the
Contact Us Form